Fingerprinting
Tuesday, Wednesday & Thursday
10 a.m.-Noon & 1-3 p.m.
History of Department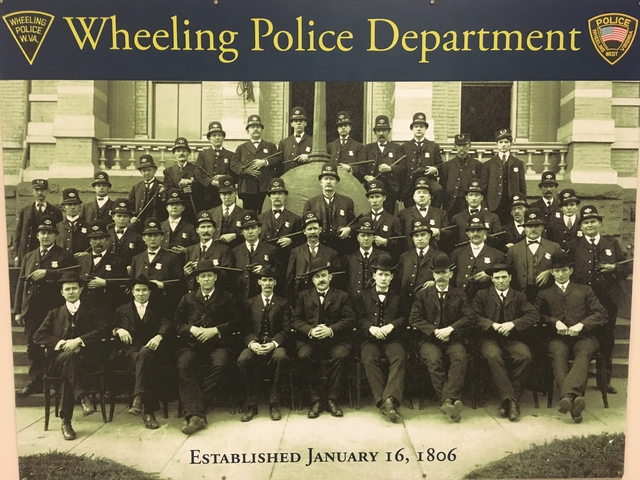 On January 16, 1806, Wheeling was charted as a "town" by an Act of Assembly of the Virginia Legislature. (Later West Virginia on June 20, 1863).  The charter of the town of this new municipality called for the creation of a Police Department to protect the growing metropolis.
The Wheeling Police Department (WPD) is believed to the oldest police department in the state. It is more than a century older than the West Virginia State Police which was chartered in 1919.

The first record of a Chief of Police is referenced on March 25, 1806. Mr. George Pannell was appointed by the mayor and Commonality as the first Sergeant of the newly established town. A Sergeant's duties were the same as a modern-day Chief of Police.  The term Sergeant was used until 1879.

After the City became incorporated in 1836 the WPD appointed their first Chief of Police, Peter Kennedy, who had four Officers under his command. The city had no paved streets. The street was lit by oil lamps. One of the primary duties of the Officers were to keep the streets clear of cows and pigs so that they would not startle passing horses.

It is believed that the first person arrested in Wheeling was a Mr. Ward Cubbinson who got into an argument with Osrey Hatch over a line fence. Hatch's cows wandered onto what is now 12th and Market Streets.  He was struck by Cubbinson during the feud.  The fine was $2.00, plus cost, which Cubbinson paid for in corn. The first woman arrested was a Maude Smith who was charged with Breach of Peace after striking a neighbor's child.  She was assessed a fine of $1.00 and costs.

The WPD acquired its first police car around 1925. A second was added in 1928 and referred to as a scout car. Police motorcycles were also pressed into use around this time. In 1936 the WPD upgraded their fleet with Radio Cars. These were put to highly effective use in the flood of 1936. Some other highlights of progress in the Department over the years:
In 1988 the WPD drug task force was created.
In 1988 The department implemented two new computer systems.
In 1990, the department's D.A.R.E. (Drug Abuse Resistance Education) program was launched
By 1992 the department was completely computerized and VHS camera systems were installed in the Police Cars.
In 1997 the department formed its first Mountain Bike Patrol Division and Community Neighborhood Watch program.
In 2003, the first K9 unit was implemented with K9 Freddie and Alf.
In 2006 the first "Prevention Resource Officers" were established at Wheeling Park High School and Triadelphia Middle School.
In 2010, the patrol division changed its color scheme for its fleet back to the classic black and white.
In 2015, Civilian staff members were added to man the front desk of the PD - a job long held by a uniformed officer
In 2016, the first Public Information Officer was hired.
In 2018, the first Crime Analyst was hired