City of Wheeling Recycling Division
10 Hunter Avenue | Wheeling, WV 26003
Phone: (304) 234-3707
---
About the Residential Recycling Program
The program began in October 1993. Materials are picked up curbside and taken to a recycling center in Brooke County, W.Va. Last year, Wheeling recycled 125 tons of materials.
Can I participate?
The curbside recycling program serves all neighborhoods within city limits, pick-up alternating red bins one week and blue bins the next (see recycling calendar below).
To recycle, simply place the materials listed below in the bin, and set bin on the front curb on trash day every other week according to the schedule.
food cans (tin, aluminum, steel – must be clean with labels removed. Please make sure cans are entirely metal.
pop/beer cans
newspapers
magazines (glossy and matte)
paper (junk mail, cereal boxes, printer paper, card stock, phone books)

corrugated cardboard
Guidelines for cardboard:
Cardboard MUST be clean and dry.

Cardboard should be broken down so it is flat and fits into the recycling bin – no larger than 12"x18".

Cardboard rolls such as for paper towels and toilet paper are allowed.

Pizza boxes and food containers dirty with food mess will NOT be accepted nor will wet cardboard.
Do I have to pay extra for recycling pick-up?
No. The recycling fee is already included within your water bill and residents can utilize multiple bins at no additional cost.
What if I don't have a bin yet, or want another bin?
Residents who need a bin or an extra bin can purchase one for $13.60 by calling the City's Finance Dept. at 304-234-3653 or by visiting Suite 115 in the City-County Building, 1500 Chapline Street.
Questions?
Call 304-234-3707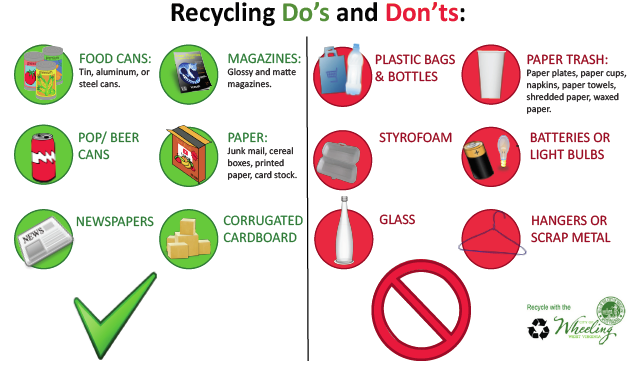 ---
Additionally, the Ohio County Solid Waste Authority can give information on recycling outside of the city. For information or inquiries, please call (304) 234-3884.