Mayor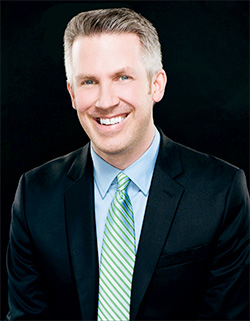 Mayor Glenn F. Elliott, Jr. 
Elected: May 10, 2016 | Reelected: June 9, 2020
Term: Second four-year term through June 30, 2024
Born and raised in Wheeling, West Virginia, Mr. Elliott is a 1990 graduate of the Linsly School and a 1994 graduate of the University of Pennsylvania's Wharton School with a Bachelor of Science in Economics.  From 1994 to 1999, he served as Legislative Assistant for U.S. Senator Robert C. Byrd in his Washington, D.C. office.  In 2001, he graduated from the Georgetown University Law Center in 2001 with a Juris Doctorate degree, Mr. Elliott also holds honorary Doctorate degrees from Wheeling University and West Liberty University.  After he graduated, he then joined the international law firm Baker Botts LLP in Washington, D.C., where he worked from 2001 through 2008 as a corporate lawyer focusing on mergers and acquisitions and securities law compliance.  In 2009, he returned home to Wheeling and set up practice as an attorney in Wheeling to assist local law firms whose clients had transactional needs beyond their area of practice.
In 2012, he turned his focus to Downtown Wheeling revitalization and preservation efforts.  In September 2013, formed Market Street Now, LLC and purchased the historic Professional Building as a multi-year preservation/renovation project.  Vacant when acquired, the Professional Building now houses four Downtown businesses in converted office space.  In 2014, Mr. Elliott was recognized by Wheeling City Council for his preservation efforts.  In addition to managing Market Street Now, Mr. Elliott manages three other small businesses.  In January 2015, he opened Elliott Law Offices, PLLC at the Professional Building to continue his legal practice, and in July 2019 he founded Route 40 Realty LLC to focus on commercial and residential property management in the Upper Ohio Valley.  In December 2020, he founded Thirteen Ten, LLC to own and manage the commercial office building located at 1310 Market Street in Downtown Wheeling.
In May 2016, Mr. Elliott, as a first-time candidate for office, was elected to a four-year term as Mayor of the City of Wheeling.  Under his leadership, Wheeling City Council has focused on economic development initiatives aimed at diversifying the local economy and fostering quality-of-life improvements to attract and maintain a quality workforce.  In particular, he has championed the need for greater Downtown revitalization efforts along with enhanced walkability to help Wheeling compete against larger cities in the 21 st Century economy.  In 2017, he worked with City Council to approve a Façade Improvement Program to provide matching funds to property owners making improvements to their Downtown properties.  Since taking office, he has worked closely with officials from the West Virginia Division of Highways on a $30 million project to replace the existing streetscape—streets, sidewalks, signalization, and trees—on Main and Market Streets Downtown.  The engineering for this massive project is underway with construction set to begin in late 2020 or early 2021.
Mayor Elliott has also fulfilled a campaign promise to make restoring the City's thirty-plus neighborhood parks and playgrounds a priority.   He has worked with City Council and local philanthropists to secure funding for multiple playground replacements, with a plan to replace or repurpose the remaining installations in the years ahead.  As of 2020, more than two dozen park and playground updates have been completed, with a plan to finish the remaining installations in 2021.  A current update of these important quality-of-life improvements to the City of Wheeling can be found here:
https://www.wheelingwv.gov/departments/Parks-Recreation/parks-trail-projects
During Mayor Elliott's time in office, City Council has followed through on commitments to provide new public safety facilities for the City's first responders.  In 2020, City Council approved the rehabilitation of the former Valley Professional Center building in Center Wheeling to become a new headquarters for the Wheeling Police Department.  Wheeling Police Department officially moved into the new facility, holding a ribbon cutting ceremony in July of 2023, the facility will be the first new home for the City's law enforcement officers since 1958.  Similarly, in 2021, City Council approved the acquisition of land in East Wheeling to house a new headquarters for the Wheeling Fire Department, which has been in its current location since 1977.  This new facility is expected to be completed by December 2023. Combined, these two new state-of-the-art facilities will reflect the City's commitment to public safety and to its first responders for years to come.
Mayor Elliott has also sought to bring new faces to the table where municipal decisions have been made.  Along with City Council, he has commissioned numerous ad hoc committees comprised of individuals and business leaders throughout the community to focus on topics such as population retention, economic development, workplace housing, waterfront enhancement, and recycling.
During Mayor Elliott's time in office, Wheeling has also been recognized as one of the fastest growing economies in West Virginia, and in 2017 was named as the 61st best small city in America to start a business.  In November 2018, the Wheeling metropolitan area was recognized by Bloomberg News as #5 in the nation for per capita personal income growth over the prior three years (at a remarkable rate of 8.9%).  In addition, since 2016, the City of Wheeling has been featured in national news stories by Reuters, National Public Radio, the New York Times, Pro Publica, and others. In June of 2023, Wheeling was awarded as the 33rd Best City for Families in America by Fortune Magazine. In July 2017, Mayor Elliott was appointed to the Board of Directors of the West Virginia Affordable Housing Trust Fund by Governor Jim Justice, and in February 2020, Governor Justice appointed Mayor Elliott to the West Virginia Complete Streets Advisory Board.  In November 2018, Mayor Elliott was named WV Living's "Best Mayor" as part of its annual "Best of West Virginia" list. Mayor Elliott received the Mayor of the Year Award in 2022 by the West Virginia Municipal League, and in 2023 was honored by Wheeling's Human Rights Commission at his State of the City address for his outstanding support, dedication, commitment and advocacy to Human Rights. Mayor Elliott was presented at the 2023 Annual West Virginia Municipal League conference with the coveted James Hunt Lifetime Achievement Award. Mr. Elliott also serves on the boards of the following entities:  
 Regional Economic Development Partnership (Director; Member of Executive Committee)

Ohio Valley ADC, Inc. (Director)

Wheeling National Heritage Area Corporation (Director)

WVU Medicine Wheeling Hospital, Inc. (Director, Member of Executive Committee)

West Virginia Municipal League, Inc. (Director; Chair, Policy Committee)
Mayor's Meeting Calendar