City Pools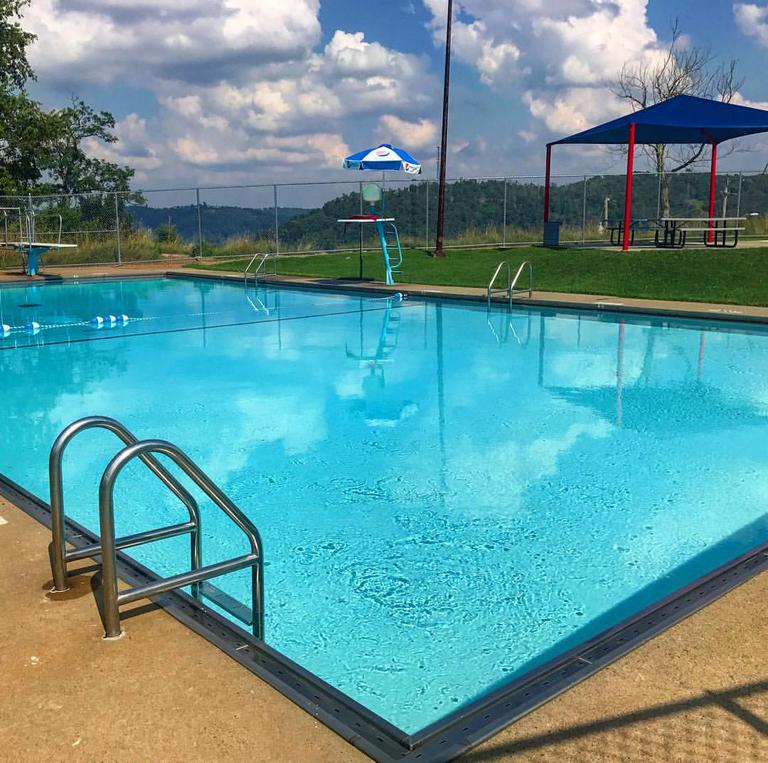 Pools!
Keep cool this summer at any of our city pools located at 36th Street in South Wheeling; Garden Park in Warwood; Bridge Park on Wheeling Island; and Grandview Pool in Wheeling Heights. Additionally, the Park Commission operates the Wheeling Park Pool and the Oglebay Pool.

They are a great place to be in the sun, catch a tan, and best of all is the price! $2 for adults, $1 for children (6-12), and kids under 5 get in free!
Opening day is Saturday, June 1st with daily hours of Noon - 6 P.M. The city will operate the concession stands and certified lifeguards are always on duty.
Directions
36th Street (3600 Wood St) Call: 304-234-3863
Garden Park (115 Viking Dr) Call: 304-234-3862
Bridge Park (191-199 Zane St) Call: 304-234-3787
Grandview/Wheeling Heights Pool (900 Grandview St) Call: 304-234-3861

Learn To Swim
The City of Wheeling offers one of the best Learn-To-Swim programs in the Tri-State area. The cost is a nominal $10 - now that's a bargain you can't pass up! Sessions are open to children ages 3 and up. Each session is scheduled to last for two weeks and run Monday - Friday.

We offer classes from beginners to advanced swimming levels. There will also be pre-school classes for children 3 - 5 years old (a parent must accompany child into the water). The classes are taught by qualified Red Cross Water Safety Instructors and lifeguards.

Registration is on the first day of each session anytime between 9:00 A.M. - 11:30 A.M. and a certificate will be given at the completion of the classes.
36th Street Pool: June 24th - July 5th
Garden Park Pool: July 8th - July 19th
Senior Swim
We have stretched the senior citizen age group a good bit to include everyone 50 and over. The pool will be yours exclusively every Saturday for one hour at 11:00 A.M. under the supervision of a certified lifeguard. This program is absolutely FREE. You may swim laps or simply splash or exercise in the water. Sorry, no on under the age of 50 will be admitted. Remember - there is no charge!

Moonlight Swim
Special moonlight swims from 6:30 P.M. - 8:30 P.M. will be offered at all city pools during the month of July. Regular admission charges will apply.
Monday - Garden Park
Tuesday - Bridge Park
Wednesday - Grandview/Wheeling Heights
Thursday - 36th Street

Season Swim Pass
The Recreation Department will again offer Season Swim Passes.
Family Pass - $55
Single Adult/Student Pass - $40
Senior Citizen Pass - $30
All passes can be purchased at your local pool.

Family Fun Night
The Wheeling Recreation Department will sponsor another FREE program at our four city pools. A "Family Fun Night" will be held on -
July 5th - Grandview/Wheeling Heights Pool
July 15th - Garden Park Pool
July 19th - Bridge Park Pool
July 26th - 36th Street Pool
There will be FREE ADMISSION into the pool as well as FREE hot dogs, ice cream, Coca-Cola, and a D.J.! The hours will be from 6:30 P.M. - 8:30 P.m. There will also be door prizes and FUN for all. Concession stand will also be open. Come and enjoy a FUN FAMILY OUTING at your neighborhood pool!
Pool Party Rentals
To schedule a pool party, please call the Parks & Recreation office at (304) 234-3641.
Please identify which pool you are reserving, provide name, email, phone number, and pay a $30 reservation fee.
A reservation contract must be completed with reservation fee. For the day of your pool rental, please pay $70 cash for two lifeguards at the reserved pool.
$100 total rental fee
Pool Rental Agreement (click here)