The City of Wheeling, in conjunction with Be Kind Ceramics, will host a Pottery Paint Party from 2-4 p.m., Sunday, Sept. 24 at the shelter in Garden Park, 1208 Warwood Avenue, Wheeling.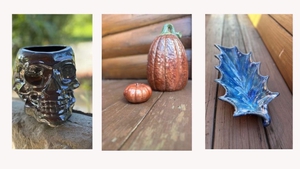 Director of Parks & Recreation Rochelle Barry explained those attending will have the opportunity to glaze their own fall-themed pottery under the direction of Liz Raber, owner of Be Kind Ceramics. There will be three options from which to choose – a pumpkin, a skull planter and a leaf dish. A selection must be made when registering at wheelingrec.com and must be done in advance to ensure adequate materials are on hand at the function. 
"This unique opportunity to create some fall décor will be a fun way to spend a Sunday afternoon as the seasons change," said Barry, noting a popcorn bar and cider will be provided, but attendees can feel free to bring their favorite snacks and drinks if desired. 
For more information, call (304) 234-3641 or email wheelingrec@wheelingwv.gov.