Mike Chiazza, operations supervisor for the City of Wheeling's Water Pollution Control Division (WPCD), was honored with the Glenn O. Fortney Operator of the Year award during the annual American Water Works Association/Water Environment Association conference held recently at Oglebay.
Chiazza said he is humbled to receive the award.
"When I first started with the City, I looked at the job as a way to bring home a paycheck, but it has turned into so much more. I was inspired to go back to school and earn a bachelor's degree in environmental science to complement what has evolved into a career. I take to heart what the sign at the plant entrance says – Water Pollution Control. That is what we do here. We recycle and reuse water, as well as try to prevent pollution from entering our creeks, streams and river," he said. "There are so many professional operators throughout the state and especially in Wheeling making a difference and it makes me feel pretty good receiving this award even though there are so many more who deserve recognition."
Chiazza has also made great strides with public education on the topic of fats, oils and grease (FOG) and minimizing how much FOG enters the City's sewer system. He also helped to create the Wheeling Creek Watershed Alliance.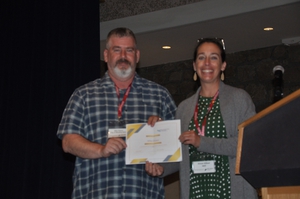 "The Wheeling Creek Watershed Alliance was started by accident, but it has resulted in things like grants for stormwater catch basins, kiosks being placed at various spots along Wheeling Creek, litter prevention signs at other locations and teaching kids about the importance of pollution prevention," he said.
WPCD Plant Superintendent Andy Harris said Chiazza is very deserving of this award.
"Mike does so much for WPCD as well as for outside agencies. He is presently teaching a class for the Environmental Training Center, is currently a board member for the West Virginia Municipal Water Quality Association, all while being Wheeling's lead wastewater operator. I am proud that he is adding Operator of the Year to his list of accomplishments," he said.
City Manager Robert Herron said this recognition is well-deserved.
"Treatment of wastewater is an extremely important function of city government. The City, under Mike's leadership, provides such treatment through a multi-million-dollar treatment plant in an environment of rules, regulations and safety. This recognition of Mike is well-deserved and a tribute not only to him, but the outstanding plant operators who work every day around the clock to ensure the best treatment of wastewater possible," he said.
The Operator of the Year award is named in honor of Glenn O. Fortney who was the environmental engineering division chief at the West Virginia State Health Department in the mid-70s. Fortney initiated operator certification in West Virginia well before any other state in America did. He helped create West Virginia's design standards and wrote the original operator certification rules. Fortney was an engineer, but an operator's man through and through.  His respect and admiration for the professionalism of wastewater operators is why this award is named after him.