Great entertainment combined with a festive atmosphere, a car cruise and some fantastic chili is the perfect recipe that makes up the 23rd annual Wheeling Feeling Chili Cookoff! 
The annual event is set for noon to 6 p.m., rain or shine, Saturday, June 3 at Wheeling's Heritage Port. The Chili Cookoff is free and open to the public. However, "taster" cups for chili and beverages will be sold by the United Way.
"We are looking forward to many restaurants and individual cooks creating great pots of chili as we aim to set another fundraising record for the United Way of the Upper Ohio Valley again this year," said Committee Chair Rosemary Humway-Warmuth. "We are looking forward to welcoming our chili cooks, judges and the public once again."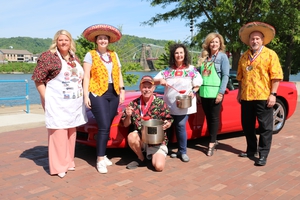 Entertainment will be provided throughout the day by New Age Adenas and Taylor Jo & the Copper Creek Band. A car cruise will also be held as a part of the cookoff from noon to 4 p.m. at 12th and Water Streets. Dash plaques will be given to car cruise participants. There is no entry fee.
"The United Way of the Upper Ohio Valley is excited to partner with the City of Wheeling on the Wheeling Feeling Chili Cookoff," said Staci Stephen, executive director of the United Way of the Upper Ohio Valley. "We are so grateful to the City for all of the hard work they put into this event that benefits the UWUOV. We hope everyone can make it to Heritage Port on June 3 to taste some of the best chili in the valley, listen to great music and have a great time for a great cause."
All chili cooks are invited – commercial, restaurants, individual and youth, ages 6-17 – to enter the cook-off, which is presented by the City of Wheeling and sanctioned by the 
International Chili Society. There is no entry fee for restaurants and first-time chili cooks. Cash prizes will be awarded in several categories including Salsa, ICS Chili Verde, ICS Homestyle and ICS Red. Other awards will also be given. The Commercial category includes restaurants, businesses, professional/fraternal/educational groups, or a combination of these groups as a team to cook and serve the chili samples. 
Wheeling native and Miss West Virginia Volunteer Emma Griffith will be leading the showmanship chili judges through the event consisting of, at this point, more than 30 individual cooks and many restaurant/commercial contestants. Griffith was crowned Miss West Virginia Volunteer 2023 in January.
            The first-place winners in all the ICS categories will be eligible to enter the 2023 ICS
World Cook-off as well as qualify for the 2023 World Food Championships. All youth participants will automatically qualify for the World Cook-off in Myrtle Beach, Sept. 29-Oct.1. 
            "Vendors are welcome. Crafts, food and spice products, apparel, jewelry – almost all vending sources will be a welcome addition."  
            To register to participate in the Chili Cookoff, visit www.chilicookoff.com. To join the ICS, or for information on the event, email chilicookoff@wheelingwv.gov or call 
304-234-3636.