Officials from the City of Wheeling presented a check to Ohio County Schools personnel Wednesday afternoon as a contribution to the Steenrod Elementary School playground project. The City's contribution will open the playground to the community when school is not in session.
City Council passed an ordinance at their March 1 meeting authorizing the expenditure of $42,000 for the project.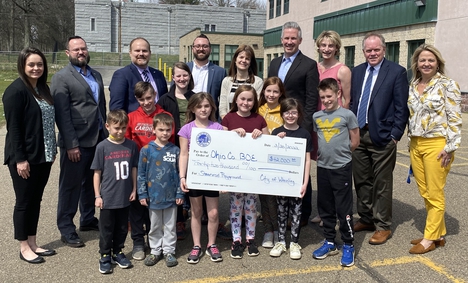 Ward 5 Councilor Ty Thorngate said the ongoing partnership between the City of Wheeling and Ohio County Schools continues to produce outstanding opportunities for all children in our community. 
"Projects like this new playground wouldn't be possible without the support of Dr. Miller, Principal Dietrich and the countless parents and volunteers working behind the scenes to make it happen. Since 2016, City Council has made it a priority to invest in all our city's playground and parks to better local quality of life and to give families a safe and engaging place to play," he said.
Ward 2 Councilor Ben Seidler, who championed the project with Thorngate, stressed the importance of play in childhood development.
"Playgrounds are an incredibly important part of the childhood development process. They are a place where kids can be active, unplug and just have fun. Kudos to the Steenrod Elementary staff, children and parents who have worked hard in their fundraising efforts. I strongly believe that partnering with our schools to build these shared-use playgrounds just makes sense. They are well loved by the school children during the day and open to the public outside of regular school hours," he said.
The Steenrod Elementary School community is so excited about the "Cardinals in Motion Playground." Principal Michelle Dietrich said the first phase, also known as the climbing phase of the playground, will cost $62,000 and is expected to be complete by the end of May. She thanked the Steenrod community for the $25,000 in donations and to the City of Wheeling for its $42,000 contribution. Dietrich said the students and staff members are so grateful for the donations.   
"It wouldn't be possible without such generosity," she said. "This is a huge undertaking and without the community and the City of Wheeling it simply wouldn't be possible. This playground will provide our students with physical activity, collaboration and creative play that is so important. Those who have donated to this project know how important it is."